The project

On 4 August 2020, a large amount of ammonium nitrate stored at the port of the city of Beirut, the capital of Lebanon, exploded, causing at least 190 deaths and 6,500 injuries.
Witnesses said homes as far as 10 kilometers away were damaged by the blast and the explosions left an estimated 300,000 people homeless with no food access and appropriate healthcare as a result of overcrowded hospitals.
The grain silos were destroyed, exacerbating food shortages caused by the COVID-19 pandemic and a severe financial crisis. About 15,000 tons of grain were destroyed, leaving the country with less than a month's worth of grain in reserve.
What is needed
Food, shelters, hygiene kits, masks and medicines.

The organisations committed with ARCS in Lebanon have been working since the early hours to provide medical assistance, food and shelter to victims.
They now need your help to continue providing support to the displaced population.
– With 100€ you can guarantee an emergency kit for a family, consisting of: hygiene kit, non-perishable food, masks and gloves;
– With 50€ you can guarantee a shelter kit composed of: mattress and blankets;
– With 25€ you can guarantee a food package with non-perishable goods;
– With 10€ you can guarantee a Hygienic Kit composed of: sanitary towels, wipes, soap and underwear;
– With 5€ you can guarantee a hot meal.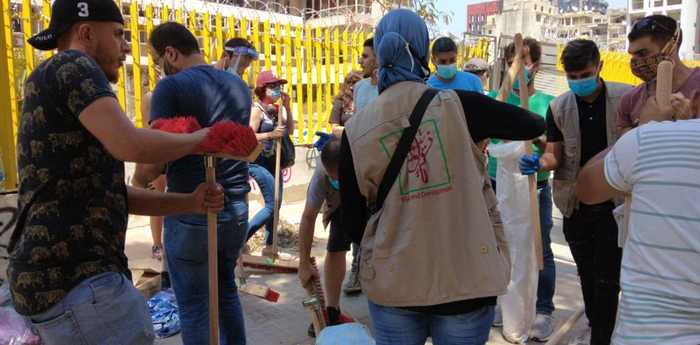 Who are we?
ARCS Culture Solidali focuses on solidarity and international cooperation, volunteering and global citizenship education, humanitarian aid and reception programmes.
ARCS has been a place of exchange and activism of great personalities such as Tom Benetollo, Renzo Maffei and Rino Serri. Embracing the values of its founders, ARCS has merged them into its ethical model, shaping its actions along with principles of honesty, equality, responsibility, transparency and solidarity.
Who is providing assistance in the field?
Basmeh & Zeitooneh (smile and olives), is a Lebanese NGO founded in 2012 by young Syrians and Lebanese who decided to tackle the emergency of Syrian refugees in Lebanon. In May 2015, together with ARCS, a Community Centre has been inaugurated in the Naba'a neighbourhood, offering women and young people vocational training courses promoting socio-economic integration, including school and psychosocial support. Since the outbreak of the Covid pandemic Basmeh & Zeitooneh supports to the most vulnerable population through basic needs distribution. To date, the NGO runs 7 Community Centres in Lebanon.
Amel,
founded in 1979, runs 25 health centres and 9 mobile units throughout the country. The organisation provides basic health services, livelihood and protection activities. ARCS and AMEL assist people with visual impairment or blindness in the Bekaa Valley.
Thanks to your contribution, we will concretely support the people affected by this tragedy!
This campaign is realized in collaboration with Arci Aps